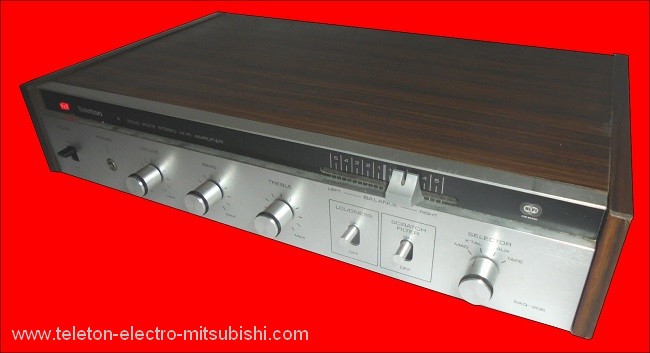 SAQ 206

Avec un design directement inspiré de "Teleton electro Ltd" le SAQ 206B est un très bon appareil de l'époque
une façade alu noir et le coffre bois il est bien dans le ton des années 1970 tout comme le GA 202. Livré avec
une finition noire ou aluminium il est le premier d'une grande série qui reprendra la plupart de ces fonctionnalités sauf l'emplacement du curseur de la balance. Après la prise du casque, on trouve les boutons de tonalité et du volume puis trois boutons affectés au mode Mono/Stéréo le filtre Loudness et le filtre dit "Scratch filter" et le sélecteur d'entrées rotatif.



With a design directly inspired by "Teleton electro Ltd" the SAQ 206B is a very good device of the time




a black alu facade and the wooden chest is well in the tone of the 1970s just like the GA 202. Comes with


a black or aluminum finish it is the first of a large series that will take up most of these features except the


location of the scale slider. After taking the headphones, we find the tone and volume buttons and three


buttons assigned to the Mono / Stereo mode filter Loudness and the filter called "Scratch filter"
and the rotary input selector.

Mit einem Design, das direkt von "Teleton Electro Ltd" inspiriert wurde, ist der SAQ 206B ein sehr gutes Gerät
der Zeit

eine schwarze alufassade und die holztruhe ist genau wie die GA 202 im ton der 1970er jahre. Kommt
mit

ein schwarzes oder Aluminium-Finish ist das erste einer großen Serie, die die meisten dieser Funktionen mit Ausnahme der Position des Maßstabsgleiters aufnehmen wird. Nachdem wir den Kopfhörer genommen haben,
finden wir die Ton- und Lautstärketasten und drei Tasten, die der Mono / Stereo-Modus-Loudness und dem Filter namens "Scratch-Filter" und dem Dreheingangswähler zugewiesen sind.




SAQ 206